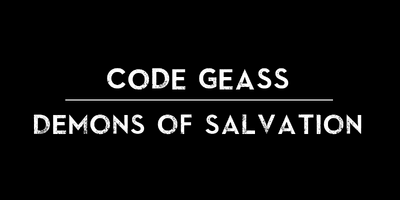 Code Geass: Demons Of Salvation is a FanFiction by
RaiZero
that follows the storyline set by it's predecessors. It's release date has not yet been confirmed.
Plot
Set sometime after the events of Demons Of Rebellion, this story will either follow the lives of the Code Geass characters as they try living normal lives after the Second Pacific War or it will follow the story of their offspring and how they must fight the sins of their parents.
Other
Demons Of Salvation Characters List
Demons Of Salvation Knightmare Frames
Demons Of Salvation Locations
Demons Of Salvation Timeline
Opening Theme Song
Trivia
The original name for this story was Code Geass R3: Sons Of Demons, which was supposed to the final installment in the rebooted Demons Trilogy.
The gaurantee of this story's creation is not confirmed and the only way it will be written is by the demand of the fans.
Ad blocker interference detected!
Wikia is a free-to-use site that makes money from advertising. We have a modified experience for viewers using ad blockers

Wikia is not accessible if you've made further modifications. Remove the custom ad blocker rule(s) and the page will load as expected.