In the End, by V0ID
Edit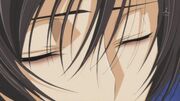 In the End begins the moment after Lelouch is murdered, and chronicles our favorite chracters' lives from then on. Lelouch has paid the ultimate price, but is the world really so simple that one man's self-sacrifice can 'save' it? Furthermore, is he actually dead?
Find out at
Fanfiction.net
or read part of the first chapter in the video below:
Ad blocker interference detected!
Wikia is a free-to-use site that makes money from advertising. We have a modified experience for viewers using ad blockers

Wikia is not accessible if you've made further modifications. Remove the custom ad blocker rule(s) and the page will load as expected.